Britton, Richard
Richard Britton travelled from Liverpool to New Orleans 23 Jan 1851 - 20 Mar 1851. Read about the voyage.
Last Name

BRITTON

First Name

Richard

Age

36

Origin

Banbury

Occupation

Jeweler

Standard Surname

Britton

Standard Given

Richard

Head Surname

BRITTON
This passenger may be related to: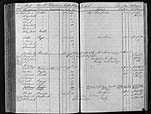 BMR, p. 123; Richard Britton papers, 1847-1937; Record book, 1878-1916, pp. 129-131; Church History Library, MS 26537.
(source abbreviations)