Frid, Sissa
Sissa Frid travelled from Liverpool to New York 11 Apr 1859 - 13 May 1859. Read about the voyage.
Last Name

FRID

First Name

Sissa

Age

32

Origin

Sweden

Standard Surname

FRITZ

Standard Given

Sissie

Head Surname

FRID
This passenger may be related to: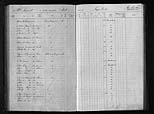 BMR, p. 124; SMR, p. 7(?); Skane Conference; Member os Captain Robert F. Neslin's Ox Train Co., arrived in S. L. City Sep. 15, 1859 (EECI).
(source abbreviations)