Beesley, Ebenezer
Ebenezer Beesley travelled from Liverpool to New York 11 Apr 1859 - 13 May 1859. Read about the voyage.
Last Name

BEESLEY

First Name

Ebenezer

Age

18

Origin

England

Occupation

Shoemaker

Standard Surname

BEASLEY

Standard Given

Ebenezer

Head Surname

BEESLEY
This passenger may be related to: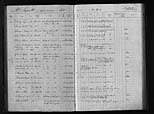 BMR, p.105; Members of Capt. George Rowley's Handcart company which arrived in G.S.L. City Sept 4, 1859 (EECI).
(source abbreviations)